Duke of Edinburgh Award

What is the DofE?
A life-changing experience. An opportunity to discover new interests and talents. A tool to develop essential skills for like and work. A recognised mark of achievements: respected by employers. Any young person can do their DofE regardless of ability, gender, background or location. The award if about setting personal challenges and pushing personal boundaries. Through a DofE programme and as an Oulton Academy student it will challenge and develop the six academy values of respect, leadership, motivation, resilience, reflection and self-confidence.

What are the benefits to young people?
Students who follow the DofE programme develop the skills and attitudes they need to become more rounded, confident adults. Qualities that colleges, universities and employers are attracted to. So, when you support your child's pursuit of their Duke of Edinburgh's Award, you're investing in their future.
You can expect to see your child develop in the following areas as they work through their DofE programme:
Self-belief and self-confidence
A sense of identity
Initiative and a sense of responsibility
A real awareness of their strengths
New talents and abilities
The ability to plan and use time effectively
Learning from and giving to others in the community
Forming new friendships
Problem solving, presentation and communication skills
Leadership and teamworking skills.
For the hundreds of thousands of young people who take part each year, the benefits of achieving a DofE Award at any level are endless. You will make a difference to other people's lives and your community, be fitter and healthier, make new friends and have memories to last you a lifetime. Achieving an Award will give you skills, confidence and an edge over others when you apply for college, university or a job.

---
Participants' Testimonials
"It has helped me with my anxiety and made me realise I can do so much more than I thought I could. My DofE experience has made me a stronger person mentality and physically." – Year 10 Oulton Student.
"You have so many opportunities available to you and I know, as DofE Award holders, you're not taking these for granted – you're seeking out the possibilities and striving for them." – Katie Melua, singer and songwriter.
"My DofE has helped me see how hard work can pay off, not just for yourself but for others too." – Year 9 Oulton Student.
"What you've done is nothing less than awesome and a huge achievement. But it's not the end – it's the start of the next chapter and I hope you go on to even tougher challenges." – Lizzie Yarnold MBE, British Olympian

"To complete our DofE expedition, our team of six had to work together. We learnt to listen to other's views and keep each other's spirits up when needed. I believe that these skills will enable me to adapt quickly and successfully within a workplace team."– Year 10 Oulton Student.
"When I get a CV through, to see the DofE on it is a big tick in the box because you chose to do something torturous and hard. You took on the challenge and got there in the end!"– Theo Paphitis, British Retail magnate and entrepreneur.
"This experience has helped me deal with knockbacks in all elements of life and I believe it will enable me to be resilient and keep focused when managing challenges in school and beyond." – Year 10 Oulton Student.
"You are the elite, not because of your background but because of what you have chosen to become through your DofE programme. Never forget what you have done, what you have become and what you can do with it." – Alastair Stewart OBE, Journalist.

---
DofE Bronze Award - Timescale
The Bronze Award will take at least 6 months to complete. The award has four sections:
Volunteering section: 3 months
Physical section: 3 months
Skills section: 3 months
Expedition section: 2 days/1 night
You also have to spend an extra three months on one of the Volunteering, Physical or Skills sections. It's your choice which one and, though you can change your mind later, you should decide which section you want to do for longer at the beginning. Knowing how long you're going to do it for will help you to choose your activity and set your goals for each section.
DofE Silver Award - Timescale
The silver Award will take at least 6 months to complete: The award has three sections:
Volunteering section: 6 months
Physical and Skills sections: One section for 6 months and the other section for 3 months
Expedition section: 3 days/2 nights
If you didn't do Bronze, you must undertake a further 6 months in either the Volunteering or the longer of the Physical or Skills sections.
Dates & Events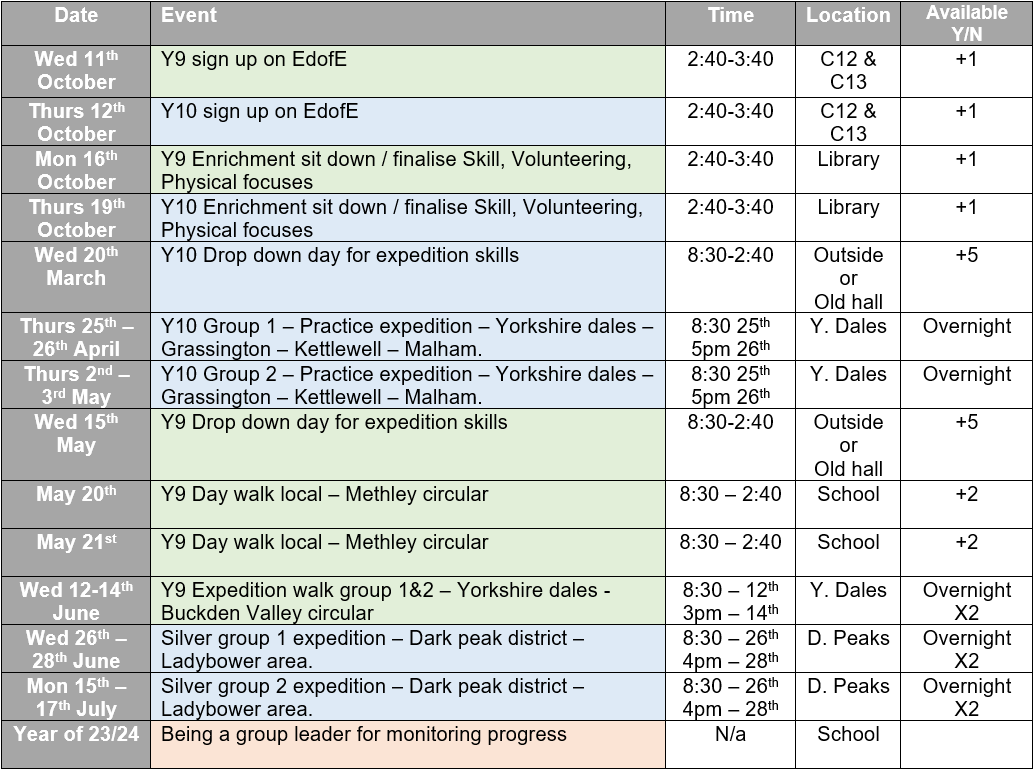 Kit Lists
Please find the kit lists for the upcoming expeditions below:
Silver practice walk / Bronze expedition 2 days
Further Information
If you would like to know more about DofE please contant Mr Trower: