School Mental Health Award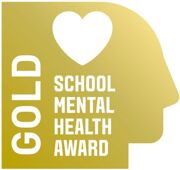 At Oulton Academy, we believe it is vital that all members of the community know how to look after their mental health. We aim to promote positive mental health for every member of our student body and staff.
The importance of social, emotional and mental health (SEMH) is recognised within the School Development Plan with the aim of creating a successful Mental Wellbeing Strategy to ensure that students receive the mental health support they need quickly and efficiently and develop an environment where all students feel happy and are able to flourish.
'The Academy has presented a detailed profile of evidence that demonstrates they are Excelling across all eight competencies of the School Mental Health Award. The school has used the framework and content of the Award to good effect to develop their mental health and wellbeing strategies, structures, and practices.'
Dr Rose Blackman-Hegan
The Department for Education recognises the direct link between positive mental health in schools and successful educational outcomes; the Mental Health Award for Schools builds on this link and provides a framework for educational institutions to evidence policies and initiatives that work towards improving emotional health and wellbeing for both staff and pupils.
The award ensures schools are using evidence-based approaches that align to professional and government guidelines. Utilising a developmental framework, which allows schools to evaluate current mental health practices, identify gaps, develop and strengthen these and work towards building an emotionally healthier environment. Through this process, schools commit to making mental health a strategic priority and developing a positive culture that promotes mental well-being for everyone.
"Supporting schools through the award is always a real privilege as it's a vehicle for sustainable change with children right at its heart. Staff feel empowered by the process and take their whole school approach to mental health forwards in leaps and bounds; quickly but in ways that will be felt by the whole community over time."
Dr Pooky Knightsmith
The award takes a whole school approach to mental health and covers eight key areas, each with a series of statements that schools will use to self-evaluate their current practice.
The eight areas are:
Leadership and strategy
Organisational structure and culture – staff
Organisational structure and culture – pupils
Support for staff
Support for pupils
Staff professional development and learning
Working with parents and carers
Working with external services
Oulton Academy values the award because:
Improves pupil and staff self-confidence, resilience and mental health
Improves pupil outcomes
Creates a culture of awareness of mental health, tolerance and acceptance, helping to reduce behavioural problems and promotes positive mental health strategies
Increases staff retention rates and attracts high calibre staff
Demonstrates commitment to adhere to professional and government guidance